Trying to decide on your next project or looking for a way to bust your yarn stash that will also make a little cash? Here are three great ideas for projects people will love.
1. Messy Bun Hats
These are not only incredibly popular right now, but they also work up fast and are a great stash busting project. These hats have a banded hole at the top to pull long hair through and knot up in a messy bun. They are so easy and liberating in the winter, and people just love them. YouTube is full of free content for a variety of patterns.
You will need to know how to gauge your work closely to the designs to ensure the bands stretch correctly across the body of the hat and that the final product suitably fits the average human head. These fast projects will fly out of your hands as sales or gifts that everyone will love.
2. Tiled Granny Square Blanket
The tiled square is a great modern twist on a classic granny square afghan. By using different sized squares and rectangles, you have the freedom to use up all your scraps and old yarn. The final look is graphic and impressive and sure to please.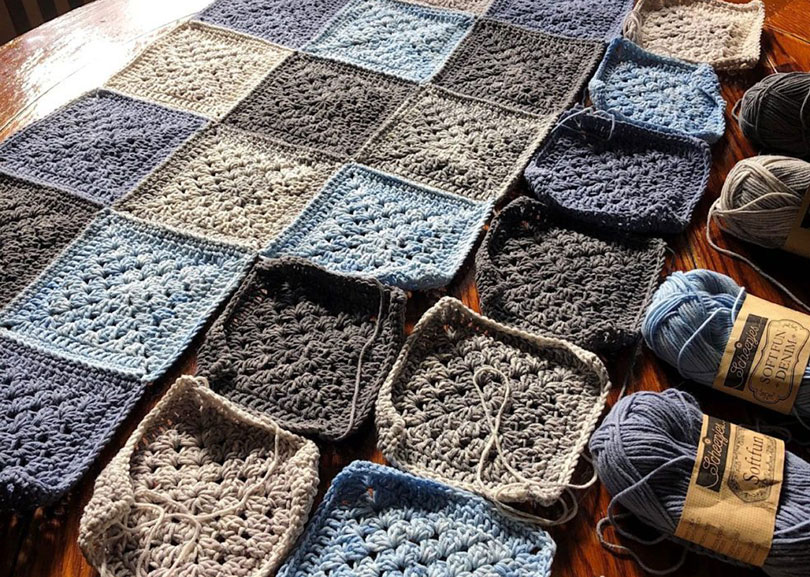 You can work this project up in any size you want, but it is a good idea to sketch it out on paper in advance. To explain the process, start with a sheet of paper and draw a 4×4 grid. You will have 16 nice large squares on the paper. Now, let your imagination take over as you subdivide about half of them. Leave approximately six to eight of the large squares, randomly scattered, as they are. Divide the rest either into four smaller squares or one rectangle and two small squares. You can even go with 16 smaller squares in each larger one. Play with this part of the process until you like the balance of shapes. The largest squares should anchor the piece at regular intervals. Now, using this layout, decide on the size of the squares based on the final size you want your afghan to be. For example, if your large squares will be 16 rounds each, then your smallest squares might be four rounds and your quarter squares would be eight rounds each. Find a quick tutorial on making granny rectangles online. They are not tricky once you have seen them.
3. Triangle Shawls, Scarves, and Wraps
These are not stash-busters, but the booming popularity of self-striping or long color changing yarn makes these so simple and satisfying. Mandala and Caron Cakes look amazing in even the most straightforward stitch. A granny cluster, V stitch, shell, or any other triangle pattern and one or two cakes in the same colorway and off you go. These move quickly and work up beautifully all on their own. They are great projects to relax with when you do not want to follow a complicated pattern or chart too closely. It is always nice to have a simple work in progress in your rotation with which to relax.
Winter is the perfect time of year to have several works in progress going at once. They each make great gifts, and you will soon find friends and family asking you for them once they see them. Still, have too much of a stash? One last project suggestion: buy a wreath form and anchor a colorful assortment of balls of yarn to it. Finish it off with a pair of knitting needles or large crochet hook. It makes a fun wreath for the front door in between holiday themes during the colder months.