Are you looking for a simple and exciting hobby? Do you dream of trying yourself in art but don't know where to start? Or maybe you want to create a masterpiece with your own hands? If so, paintings by numbers are precisely what you need!
The process of creating a painting by numbers can become a full-fledged meditation! When painting, you can be alone with yourself and your thoughts, relieve stress and relax. Psychologists highly recommend this type of activity for adults. Focusing on the process helps to strengthen this quality in other areas of your interests. For beginners who have decided to master the skill of fine art, paintings by numbers can serve as an excellent start. This activity will convince you it's never too late to achieve significant success in the drawing!
Contrary to the opinion of professional artists, there is a place for creativity in paintings by numbers. During the process, you can always experiment with brushstrokes and ways of combining them. After finishing, you can add various details you feel would make the painting even better.
To help you, we have evaluated the best paint by numbers kits for adults of any level of artistic background.
Our Top Picks
What We Like
Trendy bright colors;
Low cost;
Beautiful packaging box;
Quick result.
What We Don't Like
Hard-to-read numbers on some tiny areas;
Too thick paint;
Thin canvas.
This set is the perfect introduction to the pleasure of painting, regardless of experience and age. You'll experience full relaxation and pride in being a good artist. You can frame the finished painting to decorate your home – it will be a masterpiece created by you for the collection.
The kit includes:
Acrylic paints of different colors – 1 set;
Pre-printed textured art canvas 16 x 20 inch – 1 pcs;
Nylon brushes of different sizes – 3 pcs;
Hooks – 2 pcs;
Screws – 2 pcs;
Beautifully packaged Elftoyer brand gift box – 1 pcs.
What We Like
4 in 1;
Canvas without folds;
A separate set of paints and brushes for each canvas;
High-quality paint.
What We Don't Like
Some colors need to be applied in several layers;
The area for drawing is small.
Let's move on to a more complicated level. Here, we want to note the Feature set. It is a perfect option to enjoy art. To create your masterpiece, you can simply apply numbered colors to the blanks with the same numbers.
The kit includes:
4 types of oil paintings plus 4 sets of drawing tools. These are simple paintings by numbers suitable for people of all ages. You can use finished paintings to decorate a home, kitchen, hotel, restaurant, wedding, party, etc.
What We Like
Brushes of excellent quality;
Excellent paint quality;
Easy-to-read numbers;
The final result matches the picture.
What We Don't Like
The canvas comes crumpled, so you have to smooth it out beforehand;
Upon receipt of the order, you need to check the colors of the paint included in the kit for compliance
Do you love nature? Or maybe you're tired of the bustling city? With this set of paintings by numbers, you'll immerse yourself in the atmosphere of silence, tranquility, and peace. The printed image has visible numbers and lines. The acrylic paints are high-quality, safe, colorful, saturated, dense, waterproof after drying, and can be stored for a long time. In addition, the set includes highly elastic nylon brushes for better strokes. The manufacturer uses vacuum packaging for paints to be sure that every drop of color is ready for use.
The kit includes:
Numbered painting canvas size 16 x 20 inches – 1 pcs;
High-quality acrylic paints – 1 set;
Durable brushes – 3 pcs;
Template with the finished image.
What We Like
The finished result is a high-quality picture;
Paint of good consistency;
High-quality brushes;
Price-quality ratio.
What We Don't Like
Small fragments;
Requires a lot of time.
Immerse yourself in the nightlife atmosphere of London with the set of paintings by numbers called Impression London Street. You can create the fascinating landscape of the famous Tower Bridge with your hands. Regardless of your drawing skills, you will create an exquisite picture that does not require any basic skills.
The kit includes:
Numbered painting canvas size 16 x 20 inches – 1 pcs;
High-quality acrylic paints – 1 set;
Durable brushes – 3 pcs;
Image template;
With or without a frame (depending on your order).
What We Like
Fast delivery;
Careful packaging of the set;
Easy-to-read numbers;
High accuracy of small details;
Paints match the original image.
What We Don't Like
It may take more than one layer to paint over the fragment;
Vivid outline of fragments;
Disassembled frame.
Do you want to turn your happiest memories into a picture? Why not? Bring life to your favorite photo (family photos/soulmates/friends/pets) with this custom kit of paintings by numbers. It's a perfect option to relieve a crucial event from your life. Also, you can use the final painting as a great gift for your family and friends. The manufacturer guarantees high-quality acrylic paints and a fine and light coating of lines and numbers.
The kit includes:
Canvas for a painting by numbers 16 x 20 inches – 1 pcs (you can purchase larger or smaller canvas);
High-quality acrylic paints – 1 set;
Durable brushes – 3 pcs;
Colored image template;
With or without a frame (the manufacturer recommends purchasing a set with a frame);
Hooks.
Buyer's Guide
Paintings by numbers can be on cardboard, canvas, and wood
The canvas can be stretched on cardboard or a stretcher. It is easier to paint on cardboard because the paints create better layers. Therefore, we recommend beginners start with this type of material.
The canvas will require more layers of paint, but the finished works look more like paintings by true artists.
The kits may include matte or glossy acrylic paints
Acrylic paints fit well on most surfaces. They also dry more quickly and do not need fixing (varnishing). They are non-toxic and almost odorless, so even children can work with them. Most often, paints come in jars because it's convenient. Acrylic paints dry quickly if you leave the jars open. Therefore, we recommend closing the jars right after working with them.
Pay attention to the paintings' subjects, the difficulty level, and reviews from other buyers
We recommend choosing paintings with at least 6-7 reviews and a high average rating. Next, choose the subject matter you like, for example, your favorite animals or landscapes.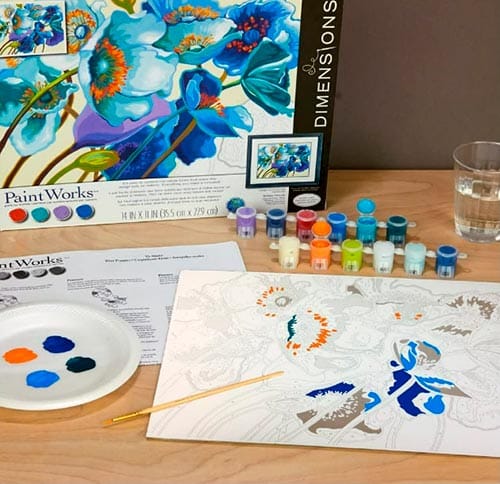 Pay attention to the difficulty level of the painting: the smaller the fragments' size, the more difficult it is to color them. But, at the same time, a small fragment size ensures better details. Hence, your picture will turn out to be more professional. You can see the difficulty level from 1 to 5 next to the photo of the subject matter. For beginners, we recommend no higher than level 4.
To start your journey with paintings by numbers, choose those that are on cardboard and do not require mixing colors. We're not saying you can't start with a canvas, but you'll find that paints have less smooth layers, and you may need several of them to get the desired result.
In the process of painting, you can try the following:
First, color the fragments with one number, then with another, etc. At the same time, it is better to start with light shades since it is easier to correct the error by painting the area darker.
First, color a house, then trees, then characters, etc. It is easier to search for the necessary fragments in a limited area. With this method, you'll get the painting's idea right away.
First, start with the background, then go to the central part of the composition. Next, with bolder strokes, you can move to the objects in the foreground. With this method, you can create the effect of a three-dimensional picture.
The painting can be varnished and inserted into the frame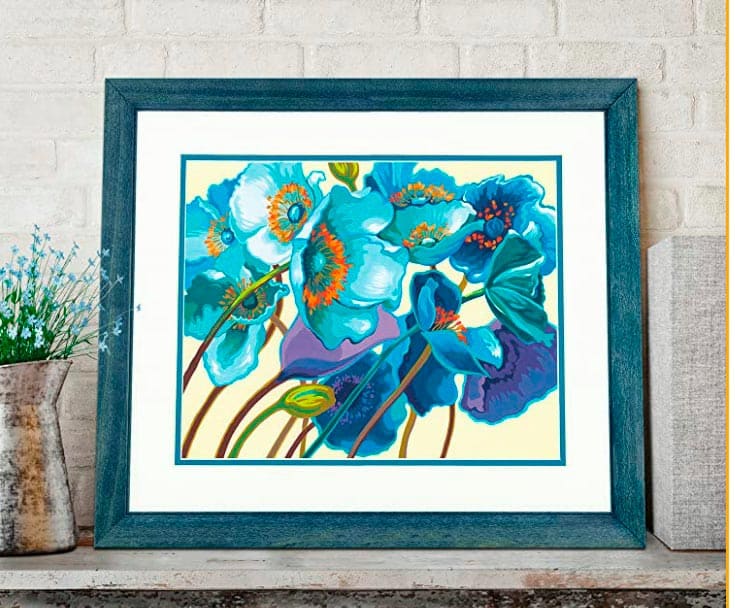 For the painting not to lose its quality and please you for many years, we recommend covering it with a colorless glossy or matte varnish upon completion. You can choose a frame for the finished painting. You can also hang your work on the wall without a frame. But, if you decide not to use the frame, paint over the end faces of the canvas so they look neat.