Are you looking for a simple and exciting hobby? Do you dream of trying yourself in art but don't know where to start? Or maybe you want to create a masterpiece with your own hands? If so, paintings by numbers are precisely what you need!
The process of creating a painting by numbers can become a full-fledged meditation! When painting, you can be alone with yourself and your thoughts, relieve stress and relax. Psychologists highly recommend this type of activity for adults. Focusing on the process helps to strengthen this quality in other areas of your interests. For beginners who have decided to master the skill of fine art, paintings by numbers can serve as an excellent start. This activity will convince you it's never too late to achieve significant success in drawing!
Contrary to the opinion of professional artists, there is a place for creativity in paintings by numbers. During the process, you can always experiment with brushstrokes and ways of combining them. After finishing, you can add details that make the painting even better.
To help you, we have evaluated the best paint by numbers kits for adults of any level of artistic background.
Our Top Picks
What We Like
Trendy bright colors;
Low cost;
Beautiful packaging box;
Quick result.
What We Don't Like
Hard-to-read numbers on some tiny areas;
Too thick paint;
Thin canvas.
This set is the perfect introduction to the pleasure of painting, regardless of experience and age. You'll experience complete relaxation and pride in being a good artist. You can frame the finished image to decorate your home – it will be a masterpiece created by you for the collection.
The kit includes the following:
Acrylic paints of different colors – 1 set;
Pre-printed textured art canvas 16 x 20 inch – 1 pcs;
Nylon brushes of different sizes – 3 pcs;
Hooks – 2 pcs;
Screws – 2 pcs;
Beautifully packaged Elftoyer brand gift box – 1 pcs.
What We Like
4 in 1;
Canvas without folds;
A separate set of paints and brushes for each canvas;
High-quality paint.
What We Don't Like
Some colors need to be applied in several layers;
The area for drawing is small.
Let's move on to a more complicated level. Here, we want to note the Feature set. It is a perfect option to enjoy art. You can apply numbered colors to the blanks with the same numbers to create your masterpiece.
The kit includes the following:
4 types of oil paintings plus 4 sets of drawing tools. These are simple paintings by numbers suitable for people of all ages. You can use finished images to decorate a home, kitchen, hotel, restaurant, wedding, party, etc.
What We Like
Brushes of excellent quality;
Excellent paint quality;
Easy-to-read numbers;
The final result matches the picture.
What We Don't Like
The canvas comes crumpled, so you have to smooth it out beforehand;
Upon receipt of the order, you need to check the colors of the paint included in the kit for compliance
Do you love nature? Or maybe you're tired of the bustling city? With this set of paintings by numbers, you'll immerse yourself in silence, tranquility, and peace. The printed image has visible numbers and lines. The acrylic paints are high-quality, safe, colorful, saturated, dense, waterproof after drying, and can be stored for a long time. In addition, the set includes highly elastic nylon brushes for better strokes. The manufacturer uses vacuum packaging for paints to be sure that every drop of color is ready for use.
The kit includes the following:
Numbered painting canvas size 16 x 20 inches – 1 pcs;
High-quality acrylic paints – 1 set;
Durable brushes – 3 pcs;
Template with the finished image.
What We Like
The finished result is a high-quality picture;
Paint of good consistency;
High-quality brushes;
Price-quality ratio.
What We Don't Like
Small fragments;
Requires a lot of time.
Immerse yourself in the nightlife atmosphere of London with the set of paintings by numbers called Impression London Street. You can create the fascinating landscape of the famous Tower Bridge with your hands. Regardless of your drawing skills, you will create an exquisite picture that does not require any basic skills.
The kit includes the following:
Numbered painting canvas size 16 x 20 inches – 1 pcs;
High-quality acrylic paints – 1 set;
Durable brushes – 3 pcs;
Image template;
With or without a frame (depending on your order).
What We Like
Fast delivery;
Careful packaging of the set;
Easy-to-read numbers;
High accuracy of small details;
The paints match the original image.
What We Don't Like
It may take more than one layer to paint over the fragment;
Vivid outline of fragments;
Disassembled frame.
Do you want to turn your happiest memories into a picture? Why not? Bring life to your favorite photo (family photos/soulmates/friends/pets) with this custom kit of paintings by numbers. It's a perfect option to relieve a significant event from your life. Also, you can use the final painting as a great gift for your family and friends. The manufacturer guarantees high-quality acrylic paints and a delicate and light coating of lines and numbers.
The kit includes the following:
Canvas for a painting by numbers 16 x 20 inches – 1 pcs (you can purchase larger or smaller canvas);
High-quality acrylic paints – 1 set;
Durable brushes – 3 pcs;
Colored image template;
With or without a frame (the manufacturer recommends purchasing a group with a frame);
Hooks.
Buyer's Guide
Paintings by numbers can be on cardboard, canvas, and wood
The canvas can be stretched on cardboard or a stretcher. It is easier to paint on cardboard because the paints create better layers. Therefore, we recommend beginners start with this type of material.
The canvas will require more layers of paint, but the finished works look more like paintings by true artists.
The kits may include a matte or glossy acrylic paints
Acrylic paints fit well on most surfaces. They also dry more quickly and do not need fixing (varnishing). They are non-toxic and almost odorless so children can work with them. Most often, paints come in jars because it's convenient. Acrylic paints dry quickly if you leave the jars open. Therefore, we recommend closing the jars right after working with them.
Pay attention to the paintings' subjects, the difficulty level, and reviews from other buyers
We recommend choosing paintings with at least 6-7 reviews and a high average rating. Next, choose the subject matter you like, for example, your favorite animals or landscapes.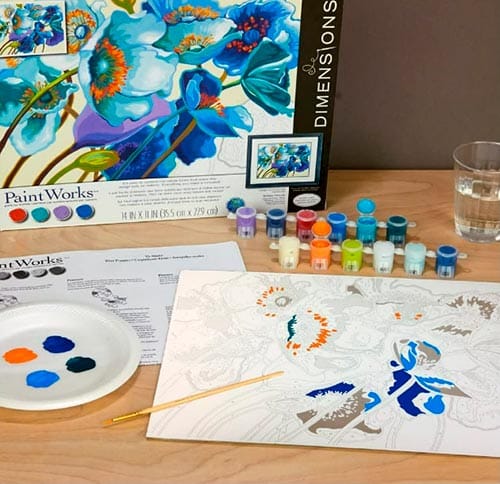 Pay attention to the difficulty level of the painting: the smaller the fragments' size, the more difficult it is to color them. But, simultaneously, a small fragment size ensures better details. Hence, your picture will turn out to be more professional. You can see the difficulty level from 1 to 5 next to the photo of the subject matter. For beginners, we recommend no higher than level 4.
To start your journey with paintings by numbers, choose those that are on cardboard and do not require mixing colors. We're not saying you can't start with a canvas, but you'll find that paints have less smooth layers, and you may need several of them to get the desired result.
In the process of painting, you can try the following:
First, color the fragments with one number, then with another, etc. At the same time, it is better to start with light shades since it is easier to correct the error by painting the area darker.
First, color a house, then trees, then characters, etc. It is easier to search for the necessary fragments in a limited area. With this method, you'll get the painting's idea right away.
First, start with the background, then go to the central part of the composition. Next, with bolder strokes, you can move to the objects in the foreground. With this method, you can create the effect of a three-dimensional picture.
The painting can be varnished and inserted into the frame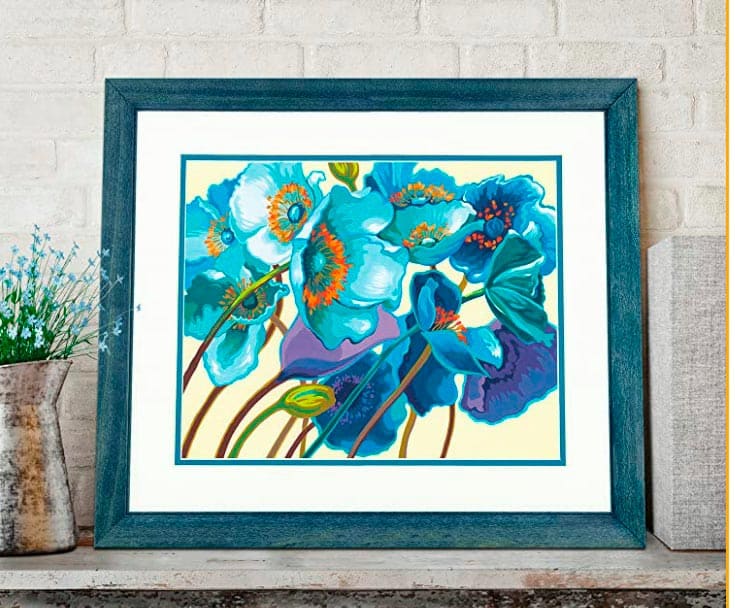 For the painting not to lose its quality and please you for many years, we recommend covering it with a colorless glossy or matte varnish upon completion. You can choose a frame for the finished painting. You can also hang your work on the wall without a frame. But, if you decide not to use the structure, paint over the end faces of the canvas so they look neat.
FAQ
How do paint by numbers work?
Paint by Numbers comes with a pre-printed canvas divided into numbered sections. Each number corresponds to a particular paint color, also included in the kit. Match the numbered areas on the canvas with the corresponding paint colors, and fill the sections with the appropriate color. As you paint each selection, the image on the canvas takes shape, eventually resulting in a beautiful, fully-painted work of art. The process is simple and easy to follow, making it a fun and relaxing activity for all ages and skill levels.
What is included in a paint by numbers kit?
A Paint by numbers typically includes a pre-printed canvas with a numbered outline of the painting, a set of paints with corresponding numbers, and a bunch of brushes. Some kits may also include an instruction manual or a reference image of the finished painting. The canvas and paint colors may vary depending on the specific kit and the design of the picture. Some kits may also come with additional tools or materials, such as a paint tray or protective cover for the canvas. Overall, Paint by Numbers has everything you need to complete a beautiful painting without buying additional supplies.
Can paint by numbers be done by beginners?
Yes, paint by numbers can be done by beginners as it is a simple process that requires no previous artistic experience. The numbers guide the painter, making it an ideal option for those who want to explore their creative side without any difficulty.
What kind of paint is used?
Typically, acrylic paint is used for paint by numbers kits. Acrylic paints are easy to work with, dry quickly, and offer various colors. They are also water-soluble, making them easy to clean up after use. Some paint by numbers kits may also use oil or watercolor paints, but acrylics are the most common.
What type of canvas is used for paint by numbers?
Paint by numbers kits usually come with a pre-printed canvas of sturdy cotton or linen. The canvas is designed to handle the paint and prevent it from bleeding to the other side. The canvas may have a pre-applied primer, which helps the paint adhere better and ensures the colors are more vibrant. In addition, the canvas may be stretched over a wooden frame or come in a roll, depending on the kit.
How many colors are typically used in paint by numbers?
The number of colors used in paint by numbers kits can vary depending on the design, but typically, there are around 20-30 colors. The colors are numbered and correspond to the numbered areas on the canvas. By matching the colors to the numbers, painters can create a beautiful and detailed work of art. Some more complex paint by numbers kits may use more colors, while simpler kits may have fewer colors.
How long does it take to complete paint by numbers project?
The time it takes to complete paint by numbers project can vary based on the size and complexity of the design, as well as the skill and experience of the painter. Generally, completing a paint by numbers project can take anywhere from a few hours to several days or weeks. It also depends on how much time the painter can devote daily to the project. Some painters may prefer to work on their projects for shorter periods each day, while others may choose to complete them in one sitting.
Is the paint by numbers kits reusable?
Paint-by-numbers kits are designed for one-time use, meaning the canvas and colors are intended for only one project. Once the painting is completed, the equipment can be discarded. However, some painters may keep the finished painting and use it for display. While the canvas and paints may not be reusable, some tools, such as the brushes, can be cleaned and reused for future painting projects.
Are there any tips or tricks for making paint by numbers more accessible?
Paint by numbers is a fun and easy activity, but a few tips and tricks can help make the process even easier. Here are a few suggestions:
Work in a well-lit area: Adequate lighting is essential to ensure that the numbers and colors can be easily seen.
Start with the lighter colors:, The lighter colors can help prevent smudging and make correcting mistakes easier.
Use a small amount of paint: Applying a small amount can help prevent bleeding and ensure the colors are consistent.
Clean the brush frequently: Cleaning the brush frequently can help prevent the mixing of colors and ensure that the paint is applied evenly.
Taking breaks and stepping away from the project is essential to prevent eye strain and fatigue.
By following these tips, painters can create a beautiful work of art that is enjoyable and stress-free.
How do I frame a completed paint by numbers project?
Framing a completed paint by numbers project is a great way to display and protect your work from damage. Here are the steps to follow when preparing a finished color by numbers project:
Measure the size of your completed canvas. This will help you determine what size frame you need.
Choose a frame that complements your painting. You can choose from various wood, metal, and plastic frames.
Remove the backing and any matting from the frame. Place the frame face down on a clean surface.
Place your completed canvas on the backing board of the frame. Make sure it is centered and aligned.
Secure the canvas to the backing board using tape or glue.
Reattach the backing board and secure it in place.
Flip the frame over and check for any loose areas or bubbles.
Hang the frame on a wall or display it on a shelf or table.
Framing your completed paint-by-numbers project is a great way to showcase your creativity and enjoy your artwork for years.
Conclusion
In conclusion, paint by numbers kits are a great way to explore your artistic side and create a beautiful work of art. Painters of all skill levels can enjoy this fun and easy activity with various designs and colors. Our top picks include Elftoyer's Colorful Cats and Butterflies, 4 Pack DIY Moon Landscape Paint by Numbers for Adults Beginner, and Eniref's Mountain Waterfall. Whether you're a beginner or an experienced painter, these kits offer a great way to relax and unwind while creating something beautiful. So why not try a paint by numbers kit today and discover the joy of painting?